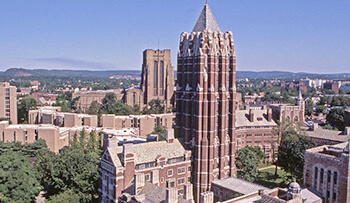 M&A Commence Preservation Project at Yale
M&A is pleased to announce our newest project, restoration on the Yale Hall of Graduate Studies. Work on this unique building is scheduled to commence in early September. The Hall of Graduate Studies was designed in the early 1930s by architect James Gamble Rogers in his signature Collegiate Gothic style. The building's original purpose was to house the graduate school classrooms, offices, and graduate students and faculty housing; a unique offering for a university at that time.
When the preservation and restoration work is complete in the spring of 2020, the Hall of Graduate studies will become a central hub for the university's humanities programs. The preservation work that M & A will do on the project includes the restoration of 300 doors and hardware in the Hall of Graduate Studies as well as restoring and refinishing all the historic architectural woodwork in the dining hall, lecture halls and classrooms. We are proud to have been chosen to collaborate on this important project.