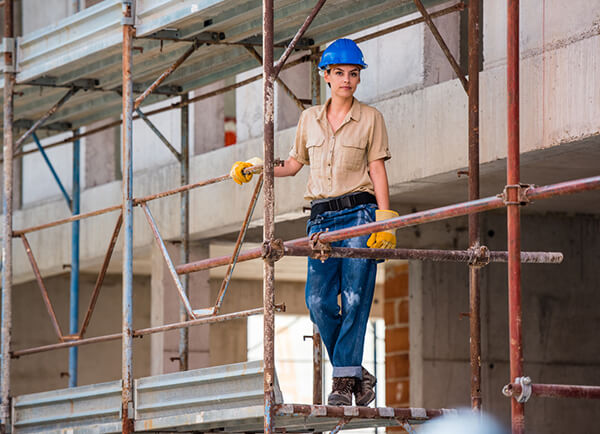 Hard Hats Off to Women in Construction!
Let's celebrate Women in Construction Week!
During the first week of March each year we recognize women doing construction jobs to strengthen and amplify their success in our industry. Let's salute all the women wearing hardhats, as well as the engineers and estimators and project managers back in the office. Rise and be counted!
Since 1990, I have been part of the construction community as the owner of M&A Architectural Preservation, enjoying construction work and restoring landmark buildings from New England to Washington, D.C. My hands-on accomplishments include painting the clock dial on Cambridge City Hall — yes, women can do that! — and I supervised the restoration of the 250-foot Ayer Mill clock tower in Lawrence, a project we're particularly proud of. I even shoveled what seemed like miles of snow-covered scaffolding surrounding the Frank D. Walker Building in Marlborough to complete restoration of the slate roof and metal cornice during the worst winter ever.
We at M&A Architectural Preservation currently are involved in a project for Laborers' International Union of North America at their training center in Pomfret, Conn., where we are restoring more than 200 historical windows. In charge is Gelmira Alba, who worked her way from apprentice fresh out of high school to foreperson at M&A. A recently completed job saw her managing an exterior restoration project at Harvard's Schlesinger Library, running a 16-person crew. She is a symbol of success and a mentor to younger women entering the trade.
We want to hear more women-in-construction success stories. We also need to start encouraging and supporting women to get into the construction trades. Growth of the industry depends on women; why are we missing half the workforce? With women in construction jobs, the construction industry will benefit, the economy will benefit, and women will get higher-paying jobs and more job satisfaction. It starts with encouraging that young woman in high school to try a simple construction project. She may find in her hands-on work that she gets a sense of accomplishment from both the creative problem-solving involved and the concrete and visible results she would not find in a traditional office job.
On their way up now, women in the construction trades have more tools in their toolboxes. They have identified mentors, learned best practices and then networked to meet others in the industry, in great organizations such as Associated General Contractors of Massachusetts and the National Association of Women in Construction, which is holding their annual conference in Houston, August 12 -15.
Looking ahead, more sophisticated technology will advance construction methods, which is bound to attract young women considering careers in STEM fields. Jobs in construction will change with and be supported by advanced manufacturing and 3D printing, robotics, and new energy supplies and technologies. Add to that the demand of related management needs in the industry for engineers, project managers and estimators.
Here's to that bright vision for the future of women in construction. We encourage more women to step up, to become stronger and more confident, to embrace the challenge to take on more — and to do it both in the field and in the office.
Ready, set, raise your hand! Take it on!