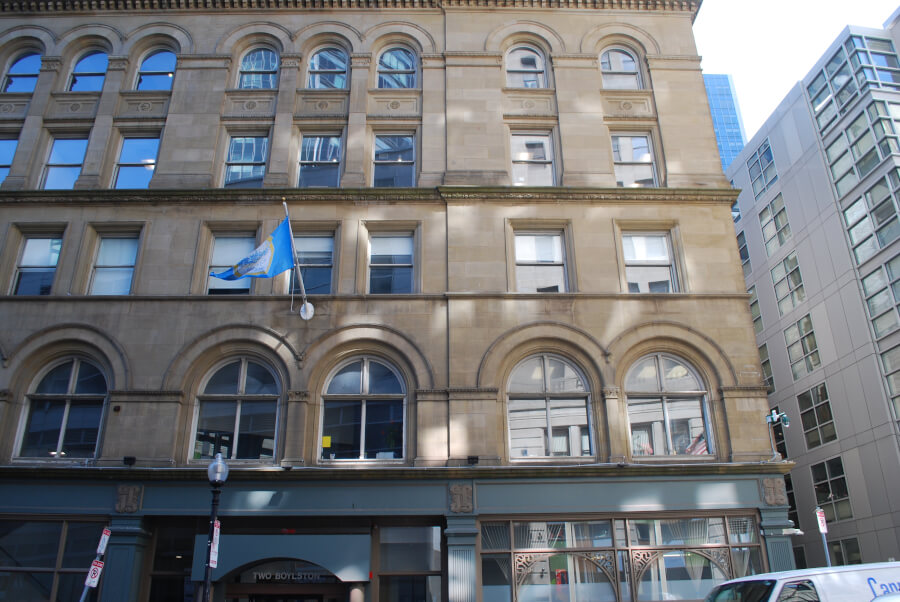 Tour Boston & See Preservation at Work, Part 3
Part three of three.
After a walk investigating Boston Common with family or friends, exceed your fitness goals by walking down Boylston Street into Chinatown to see three more M&A projects of beautifully restored exteriors and windows. This is our third Boston tour, a fun and educational journey to see — and really notice — the wonderful mixed architecture that is Boston.
We begin at the China Trade Building at 2 Boylston St., part of the Boylston Building, designated a Boston Landmark in 1977 and listed on the National Register of Historic Places in 1980. This massive building was designed by Carl Fehmer and built in 1887 by Woodbury and Leighton in the Chicago style. M&A restored all those beautiful large windows in its transformation to become new retail and office space between the theater district and the commercial corridor. From April through October the Chinese Historical Society of New England (CHSNE) offers private Chinatown History Tours for groups of 10 or more, 90-minute walking tours exploring the history of Chinatown and tracking the changes the community has undergone over the decades.
After Boylston Street turns into Essex Street past Washington, straight ahead of you at 2 Essex St. you'll see the Liberty Tree Building, where M&A restored the bas relief carving representing the elm tree. By 1770, the elm tree served as a gathering point and communications center for the Sons of Liberty and their followers. This tree was whacked down in 1775 by the overcontrolling British, but its legacy remains. The carving on the building serves as the reminder – a landmark worth noting with a wave on your way to Hong Lok House.
We were excited to see the Jan. 5, 2020, Sunday Boston Globe Magazine with the best photos of 2019, in particular one taken by Lane Turner, assistant chief photographer, on Essex St., a really moody night shot in Chinatown. You won't find the city's typical neon storefronts and narrow packed streets teeming with people here, so his photo shares a quiet, inside glimpse of this established neighborhood, which he wanted to document as it is today. "I turned the corner, and there was that incredible shaft of light. All I had to do was wait for someone to walk into that little patch." And, right there, next to the pedestrian, front and center and complete with its sign, is Hong Lok House. Probably not intended to be Hopper-esque, the photo shows a more peaceful, safe, silent night, just a couple blocks from city bustle.
Hong Lok House is one of three historic buildings, added to the National Register in 1980, linked side by side by side. M&A Architectural Preservation worked thoughtfully and extensively on each unique 19th-century storefront: a Second Empire, an Italianate and an eclectic blend of Richardsonian Romanesque and Moorish architecture. That building to the right of Hong Lok, the one with the name on it, is the very oldest wood storefront in the city of Boston! It was disassembled into pieces and stored in a barn for more than a decade before M&A was called in to put it back together.
In 2014, M&A started restorations on the first three-story building: millwork and trim and replica parts to replace those that were missing and installing new replica windows and storefront. On the second building, we restored each window and created a replica wood storefront. And, at the third building in the chain, we installed all-new replica arched windows and wood storefronts in the completely rebuilt stone façade.
The Boston Preservation Alliance recognized this Liberty Tree Historic District project with an award in 2015 for its preservation of the historic facades, a project which created much-needed community housing. Now a Rogerson community, its 74 low-income senior housing units were designed for those who have lived their lives in Chinatown and choose to continue living in their neighborhood.
We hope you enjoy our historic project walking tour and learning about the historical significance of these Boston buildings – many of which you might have passed without noticing. Now cap off your tour with lunch or dinner at any of the great Chinese restaurants in the area. You've had quite a day.