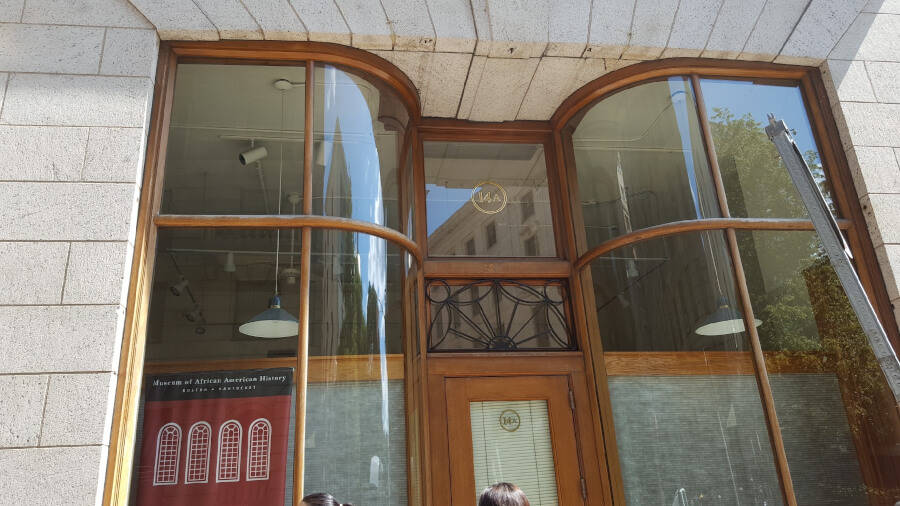 Tour Boston & See Preservation at Work, Part 2
Part two of three.
Spend your day seeing the sights on the Boston Duck Tour, and you'll also see multiple M&A projects, beautifully restored exteriors and windows, viewable right from your Duck Boat. Our M&A guys like to take visiting relations around town to show off the work we've done, which is why we started a list. We call it our Duck Tour projects, a fun and educational journey for the whole family during your days off, holidays and weekends.
The 80-minute tours depart from the New England Aquarium, Prudential Center or Museum of Science; only the Pru and Museum tours extend through the Back Bay, which includes First Church of Christ Scientist, a significant and cherished landmark. But, whoa! First make sure you see 27 State St., that lovely building, its footprint unmistakable for its curved, not squared-off, corner. M&A restored those beautiful, second-tier radius windows. It sits kitty-cornered to the Old State House, the oldest surviving public building in Boston. We are honored to have been chosen to perform the exterior restoration of the tower itself, with its beautiful ornate balustrades and arched windows and its south façade, among many other projects, large and small. We haven't done much work in cemeteries, but you'll see the Granary Burying Ground at Tremont and School Streets, across the corner from King's Chapel, whose massive wood columns we restored.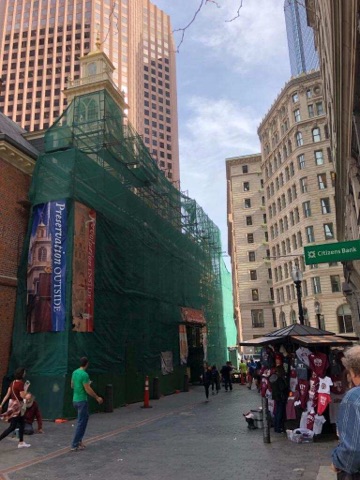 After you hang a right onto Boylston Street, you'll see Emerson College's renovated cornice at the entryway to the campus courtyard, a central area for Emerson students to congregate. An ornamental metal specialist contacted M&A for their expertise in restoring the façade.
A bit of a walking hike all by itself, the Mother Church — First Church of Christ Scientist, at the intersection of Huntington and Mass Avenues — is a super historic preservation tour destination. The Christian Scientists have made beautiful and significant architectural additions, with splendid domes and semi-domes! Stained glass and stone and plaster! An architectural preservationist's delight — oh, my! If you have time on another day to tour this venerable landmark, venture into the original Romanesque church (1894) and the Byzantine-Renaissance extension (1906), which houses one of the world's largest pipe organs. Free, 20-minute guided tours are available.
Rounding Boston Public Garden and the Common, you'll see the Massachusetts State House on the left. We covered it in our first tour blog, but it's worth noting again: We restored/replicated 863 windows on this hallmark building. Next, up on your right, heading toward Tremont Street, the Congregational House sits on Beacon Street. We replicated the curved-glass storefronts and restored all the windows, the marble bas-reliefs, the stone cartouche and rooftop balustrade. Built in 1898, this Georgian-Federal Revival building was added to the National Register of Historic Places in 1974.
We hope you enjoy our Duck Tour project tour, filled with architectural and historical interest. We've included a select number of fabulous Boston landmarks we've had the pleasure and honor of restoring and preserving —but many more await. Be sure to come back to learn about our third recommended tour, one with a whole new cast of historical landmarks.